Welcome to Crystal Candy World!
MEGA DEALS Continues!
NEW STOCK NOW IN!!!
Upto 60% Off Silicon Lace Mats.......1/2 Price Crystal Lace Icing! .......
1/2 Price CupCakeArt Silicon Mats.......1/2 Price Lustre Dust
NEW! Crystal Candy's SECRET WEBPAGE!!
Simply spend £55+ on this website and when we receive your order we will send you a link to our secret webpage where a selection of silicon lace mats are just £1 !! Simply place your order for the lace mat of choice and we will add it to your main order.
There are no additional postage charges. One mat per person per order! Strictly whilst stocks last!!!
Here are some examples of the unique designs on offer!


++++ NEW! LOWER POSTAGE PRICES for ALL CUSTOMERS ++++++
Why Choose Crystal Candy? It's All About the Design!
Our customers choose Crystal Candy silicon mats for the unique, beautiful and intricate designs. They know that it's not about the size of the mat (small, medium or large), it's what's on it!
We design and sell high quality, hand-made, unique silicon mat designs as well as innovative cake decorating product collections at an affordable and competitive price.
Each silicon mat is made from high quality, thick and longer-lasting food-grade silicon. A thicker silicon mat means that it does not move around or buckle when spreading the icing, ensuring a clearly defined design.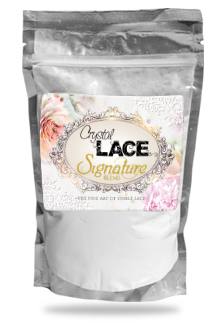 Signature Blend Icing is an amazing 2D/3D icing product for creating edible lace effect strips to decorate cakes.
It is highly concentrated: 100g of powder makes an amazing 700g of emulsion which in turn makes 30 - 35 strips of icing! And at a great price too!
Not to mention that Signature Blend uses only 100% edible and natural ingredients. It is also vegetarian and contains no animal gelatin's. It tastes sweet as well so adds to the flavour of the cake rather than taking away from it.
Simply mix with boiling water and a teaspoon of glycerine, apply to the mat (only one coast needed!) and bake in the oven for 5 - 10 minutes at 60 degrees centigrade.
Have you seen our new website www.artofelegance.co.uk ?
Brought to you by i.e. international Ltd, the global exclusive distributors for Crystal Candy, the concept is to offer cake decorators and bakers the very best ON-TREND products from around the world! More brands on their way!
NEWS! NEWS!! Laped Daisy Gum Paste Wins NEW YORK CAKE SHOW OUTSTANDING PRODUCT OF THE YEAR 2107!!!
NEW! Laped Italia! A collection of high quality modelling and flower pastes plus Wonderpaste fondant also available as the UK's first low calorie fondant.
What makes Laped Modelling Paste different? It use a high concentration of cocoa powder to ensure that it is malleable at room temperature but dry's quickly once the modelling stops and the cocoa butter sets thus saving time and money!
New! Pavonidea! the ultimate Italian silicon bakeware now available through Art of Elegance!
What makes Pavonidea silicon bakeware different? It is platinum- infused to ensure rigidity, even colouring and baking, and an odourless finish.
Unique Finish DIAMOND Lustre Dust Collection!
Add a stunning finish to your edible lace, fondant and more with Crystal Candy's new unique-finish DIAMOND lustre dusts!
100% edible with the specifications to prove it, Diamond finish is available in 10 different colours including Mercury Silver, Glitterati Gold, African Autumn Bronze and Starburst White.
Make Money Doing What You Love!
Have you ever thought of distributing or selling Crystal Candy Collections in an exclusive territory of your choice?
Become a Crystal Candy Brand VIP!
Many of our leading retailers started small and now order £1000's every month after recognising a great business opportunity.
Read Donalds Story Here
We offer a variety of sales positions from Distributor or Sales Agent or Brand VIP and more.....take a look at www.iepeople.info for more information.
Call Andy Cleaver at Crystal Candy on 00 44 (0) 7504 931 732 for further information.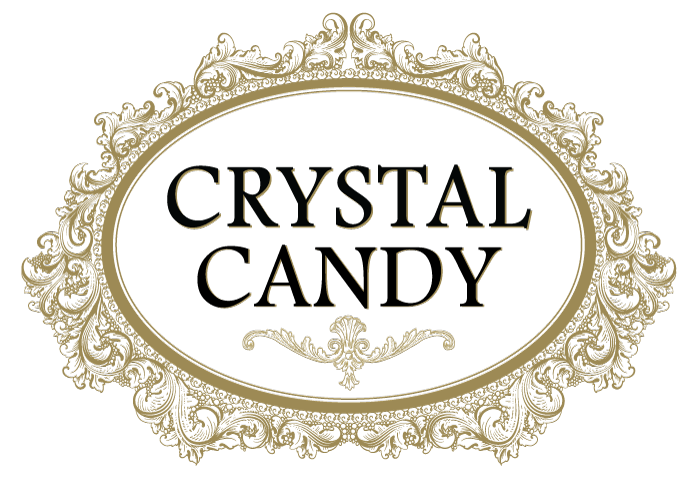 The Crystal Candy Lace Academy
Do you own a cake supplies shop? Are you a professional cake decorator? Do you already hold demonstrate classes for other products?
If the answer to any of the above is 'yes' then The Crystal Candy Lace Academy is for you!
Call Andy Cleaver on 00 44(0) 7504 931 732 Available to cake decorating professionals around the world!